Chairman's Letter May 2021
Chairman Lee Orange welcomes players back to the club.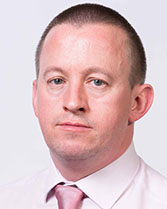 Firstly, I want to wish everyone a happy and healthy return to playing Table Tennis. The past 12 months have been a very challenging time for everyone, on both a physical and mental level. For many participants there has also been a big impact on the social side too, as many of us enjoy the conversation and banter, just as much as playing matches and practicing.
I would like to thank all members for being patient with us during the past 12 months and for giving their continued support of membership through this difficult time to ensure we had a club to come back to post COVID. At long last we can now begin returning to practice in preparation for returning to match play in the Summer League.
I would ask all members to take things slowly at first as it has been such a long time since many of us have done any sort of competitive exercise. Let's focus on the enjoyment side and keep everything light-hearted amongst ourselves to ensure a pleasant return for all members.
From May 17th we will be continuing with the online booking system for training at Pudsey, which we put in place after the first lockdown. We have also started coaching sessions on Saturday mornings for our Junior members. A big Thank You to all coaches who organise and run these sessions, we cannot do this without your support.
I want to say a personal thank you to the Pudsey Bowling Club for permitting us extra daytime hours for members to practice at the club. Please be sure you adhere to all rules and COVID measures when on the premises and follow any additional requests from the bar staff. Please also show your support and stay for a social drink after practice.
If all goes to plan, we will hopefully be having a Leeds Summer League commencing in late June. Why not put your name down and return to some competitive play over the Summer months. We will be using the British League format for matches which will make matches slighter shorter and encourage younger members to take part.
We have started having conversations with Pudsey Leisure Centre regarding Monday night training sessions and hopefully this will return after the government gives the "green light" sometime after June 21st.
Finally, the club is still committed to celebrating it's 50th year and we are inviting all members past and present to join us in a celebration dinner commencing early 2022 at the Cornmill Lodge Hotel. More details will follow in due course.
Please stay safe and I look forward to catching up with all members during 2021.
To catch up with all the latest news, schedules and results, please make sure you check the website regularly, and if you use Twitter, please follow the club (@PudseyTTC) to get the latest updates.
Lee Orange
Chairman
Pudsey Table Tennis Club